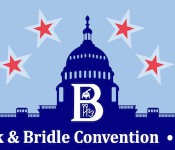 The 97th National Block & Bridle Convention convened this weekend in Arlington, Virginia. The University of Connecticut and ASAS co-hosted the convention, which drew more than 300 students, representing Block & Bridle chapters from across the country.
Convention sponsors included: ASAS, the ASAS Foundation, the University of Connecticut, Elanco, Monsanto, the North American Meat Institute, and the Spocott Windmill Foundation.
Dr. Debora Hamernik, ASAS President, and Dr. Meghan Wulster-Radcliffe, ASAS CEO, delivered the opening keynote on March 31, focusing on the convention theme "Scientific Voice in Agriculture."
On the evening of March 31, students toured various D.C. monuments via bus, making stops at the U.S. Capitol, the Martin Luther King Jr. Memorial, and the Lincoln Memorial.
On Saturday, April 1, attendees toured farms unique to the eastern shore. The tour included stops at:
Madhouse Oyster Hatchery
University of Maryland Dairy Farm
Outstanding Dreams Alpaca Farm
Spocott Farm
Following a full day of tours, students enjoyed an evening BBQ and dancing at historic Spocott Farm in Cambridge, Maryland. Hats off to the students who stayed in good spirits when their charter bus got stuck in the mud and delayed their trip back to the hotel!
The program on April 2 included a day full of educational sessions, followed by a banquet and awards presentation.
More than 50 students stayed for an optional Capitol Hill visits day on April 3, meeting with staffers from their Congressional representatives' offices.
Many photos from the D.C. tour, farm tours, convention sessions, awards banquet, and Capitol Hill visits can be found on the ASAS Facebook page!
Students, mark your calendars: In 2018, the 98th National Block & Bridle Convention will be held in Orlando, Fla., and hosted by the University of Florida Block & Bridle chapter.