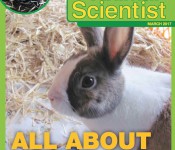 The March 2017 issue of Jr. Animal Scientist is "All About Rabbits!" In the issue, kids learn about feeding pet rabbits, as well as the different uses of rabbits.
Has your child's subscription to Jr. Animal Scientist expired? Contact kims@asas.org to renew or start a subscription for the Jr. Animal Scientist in your life! An individual subscription is just $15 per year and is published six times per year (January, March, May, July, September, November). Kids look forward to receiving their very own copy in the mailbox!
Stretch those STEM skills in the classroom! Jr. Animal Scientist and AnimalSmart.org website are a great complement to elementary classroom science curriculums. Learn more about sponsoring a classroom or group subscription by contacting kims@asas.org, or visit AnimalSmart.org today!