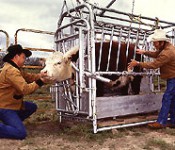 Meat Science and Muscle Biology Symposium: International Perspectives on Animal Handling and Welfare and Meat Quality
Animal welfare continues to be an important consideration in food animal production. While this is in part driven by changes in consumer demands, good animal handling and welfare are also crucial to improving outcomes in production systems and ensuring the highest meat quality possible.
During the 2017 Annual Meeting, the Meat Science and Muscle Biology Committee is hosting a symposium on Sunday, July 9, entitled "International Perspectives on Animal Handling and Welfare." This symposium aims to highlight the connections between meat quality and animal handling and the impact of improving welfare on outcomes in meat production.
This will be examined in the context of cattle (Dr. Carmen Gallo), pigs (Dr. Luigi Faucitano) and poultry (Dr. Trevor Crowe). Welfare and handling during transport will be a particular focus of the presentations. The three speakers work in Canada and Chile, hence they help to provide an international perspective on these issues, as well as showcase the work being done outside of the United States.
While the symposium will evidently be of interest to meat scientists and those working in animal welfare and handling, it has a broader relevance and is also likely to be helpful for those who work in management and nutrition of these production species.
Speaker Profiles:
Dr. Carmen Gallo first graduated as a veterinarian from the Universidad Austral de Chile, and later completed her Ph.D. at the University of Liverpool in the UK. Her work focuses on the relationships between welfare during transport, handling and slaughter, and meat quality.
The relationship between animal welfare indicators and meat quality and safety is a particular area of expertise for Dr. Luigi Faucitano, and he is currently working on projects associated with pre-slaughter management and transport of market pigs.
Dr. Trevor Crowe is an engineer working in Agricultural and Bioresource Engineering at the University of Saskatchewan, and his work in the past has included designing heated trucks to help improve outcomes during poultry transportation in the freezing Saskatchewan winters.
Register today for the 2017 ASAS-CSAS Annual Meeting and Trade Show.
See you in Baltimore, July 8 – 12, 2017!
ARS photo by Scott Bauer