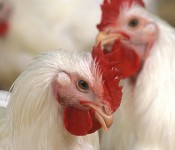 Late last week, Yum! Brands' KFC announced its plan to reduce antibiotic use in the chickens it buys. The chain's U.S. poultry suppliers have until the end of 2018 to stop using antibiotics important to human medicine.
The decision follows similar action by both McDonald's and Chick-fil-A. Read more in this Reuters/CNBC report, Yum's KFC to curb antibiotic use in the chickens it buys.
KFC U.S. President Kevin Hochman told Reuters that the new policy is important to its customers and is "something we need to do to show relevance and modernity within our brand."
This latest marketing move is a good reminder to prepare for questions on this subject from those not familiar with animal agriculture. Please be sure to point out that all chickens must be free of antibiotic residues before they leave the farm.
According to the National Chicken Council, "Even if a chicken is given antibiotics in the course of its life to treat or prevent disease, the bird must go through a withdrawal time before leaving the farm. In addition, FDA and USDA have extensive monitoring and testing programs to make sure that food at the grocery store does not contain harmful antibiotic residues."
The ASAS Policy statement, Preserving the Benefits of Antibiotics for People and Animals, "strongly supports the judicious use of antimicrobial therapies in food animal care in a manner that protects the health and welfare of the animals, preserves the efficacy of antimicrobial therapies for protection of both human and animal health, and sustains the earth's resources through efficient food production."
You also may wish to download a brochure entitled, The Facts About Antibiotics in Livestock & Poultry Production, available from the North American Meat Institute.
Links to information about the new Veterinary Feed Directive (VFD) regulations, which took effect January 1, 2017, can be found at the Food Animal Residue Avoidance Databank.
Photo: ARS