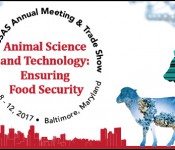 A Draft Schedule for the 2017 ASAS-CSAS Annual Meeting & Trade Show is now available online. Please note: The draft schedule is not final. Presentation dates, times and locations may be subject to change.The schedule automatically updates nightly.
View the Draft Schedule today to start planning your time in Baltimore!
Symposia have not been fully added to the schedule yet. For a complete list of symposia, please see the Symposia Schedule. Please also note these Important Deadlines.