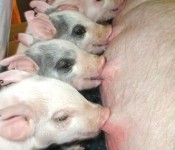 Matthew Rooda, a pre-med student from Iowa, has invented a device that can be worn by a farrowing sow to reduce crushing of newborn piglets. Dozens of pork producers have expressed an interest in the technology, which is expected to be launched soon.
In an Associated Press article recently published by Agri-View, the technology is described as "a cross between a shock collar for dogs and a fitness tracker for people." Rooda's inspiration, which has won him a national entrepreneur award, stems from working in the farrowing barn of a hog operation. The article points out that the device delivers a mild shock.
The article also discusses the significance of crushing to the pork industry, as well as concern about the on-farm economic return of the the new technology and how it might affect the behavior and welfare of sows, with quotes from Dr. Donald Lay, with the UDSA's Agricultural Research Service at Purdue University, and Dr. Lee Johnston, a professor of animal science and extension swine specialist at the University of Minnesota.
Read more about Rooda's invention in Student's invention reduces piglet death.
Photo: National Pork Board