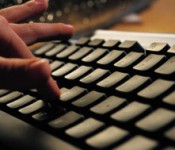 The Western Section of ASAS (WSASAS) is hosting its first Teaching Webinar. This free webinar is scheduled for 12:00 PM (CDT) on Thursday, May 11, 2017. Guest speaker Loren Baranko will discuss the value of internships for undergraduate students and how these internships can affect students' career paths. The webinar is free, but please pre-register. Hope you can join us! Baranko is a lecturer in the Department of Animal Sciences at North Dakota State University.
Some of the topics that she will discuss include:
Why internships are important
Where our students get internships
How they get internships
How we work with producers and businesses in the state
The requirements for the internship program in the Department of Animal Sciences at NDSU
After registering, you will receive a confirmation email containing information about joining the webinar.