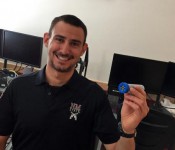 An undergraduate student in the Department of Animal and Range Sciences at New Mexico State University is developing a prototype of a feed intake device for grazing cattle.
According to this NMSU article, Josiah Brooks is conducting a trial "to develop a marker system to determine feed intake in grazing cattle that will allow researchers to investigate how grazing management and supplementation programs can improve cattle health and performance." Brooks' research was made possible by an NMSU College of Agricultural, Consumer and Environmental Sciences USDA-Hispanic Serving Institution LEADERS grant awarded to the Department of Animal and Range Sciences.
Jordan Glaze, a fellow NMSU undergrad majoring in both mechanical and aerospace engineering, is helping Brooks develop the prototype. The device, which would be inserted into the rumen, would automatically release titanium dioxide (an inert marker) over a period of time.
Dr. Eric Scholljegerdes, Associate Professor of Animal Science in NMSU's Department of Animal and Range Sciences, is Brooks' faculty adviser. Scholljegerdes hopes to test the device on cattle this summer.
NMSU photo by Tiffany Acosta