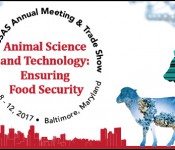 A draft of the 2017 ASAS-CSAS Annual Meeting & Trade Show scientific program is now online. New this year – The complete abstracts have been integrated into the draft program. We are excited to present this year's program in an enhanced online version earlier than ever before! The scientific program is packed with more than 1,000 presentations (oral and poster). This includes 28 symposia, workshops, competitions, 5 Junior Platform Speakers and 8 Platform Speakers. In addition to the high-quality scientific program, there are numerous opportunities to network at various social events!
NEW AT THE 2017 ASAS MEETING
Platform Speakers: To enhance the program and add continuity, we have added numerous platform speakers that will anchor oral sessions. Look for a complete list of platform speakers in the next several weeks.
Junior Platform Speakers: To showcase the talent within the ASAS sections and to ensure that our graduate students/early career students are given a platform to speak, winners of the previous year's sectional competitions will present invited talks as part of this new series of speakers.
ASAS Partners with the Society for the Study of Reproduction: In order to celebrate the joint history of ASAS and SSR, ASAS has partnered with SSR during their 50th anniversary to provide joint programming.
Aquarium Night: A slight departure from the Opening BBQ, this year ASAS will close out the meeting with a special night at the Baltimore Aquarium. Families and friends are welcome to this once and lifetime event as Baltimore's National Aquarium closes to the public for a private viewing by ASAS meeting registrants.
RETURNING TO THE 2017 ASAS MEETING
Late-Breaking Abstracts: We are currently accepting Late-Breaking Abstracts. The deadline for these abstracts is April 28 at 11:59 PM CDT.
ePosters: View any poster at any time throughout the meeting. No more missing a poster if you can't attend at a certain time.
ASAS Virtual Meetings: Unlike any other virtual meeting platform, ASAS symposia are available within 24 hours of presentation and 12-minute talks are available within 2 weeks.
AnimalX: Join colleagues and hear them passionately tell their story!
ASAS and CSAS are thrilled to be able to offer a high level of programming without having to raise registration rates, ensuring that the ASAS-CSAS meeting offers the best meeting experience at the most economical rate.
Need more information about the 2017 ASAS-CSAS Annual Meeting? Visit the meeting page at https://asas.org/meetings/annual-2017/home.
See you in Baltimore!