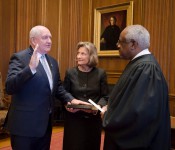 By ASAS Public Policy Committee
Sonny Perdue was sworn in as the 31st U.S. Secretary of Agriculture by fellow Georgian and Associate Justice of the U.S. Supreme Court Clarence Thomas, on April 25, 2017. Perdue was confirmed as Secretary by the U.S. Senate following a vote of 87-to-11.
The American Society of Animal Science congratulates Secretary Perdue, and encourages an emphasis on data-driven science and strong support for research to enable innovation and continued advances in all areas of animal agriculture.
In an address to USDA employees, Perdue said, "Making sure that Americans who make their livelihoods in the agriculture industry have the ability to thrive will be one of my top priorities. I am committed to serving the customers of USDA, and I will be an unapologetic advocate for American agriculture."
According to a USDA press release on April 25, Perdue's policies as U.S. Secretary of Agriculture will be guided by four principles: "First, he will maximize the ability of the men and women of America's agriculture and agribusiness sector to create jobs, to produce and sell the foods and fiber that feed and clothe the world, and to reap the earned reward of their labor… Second, he will prioritize customer service every day for American taxpayers and consumers… Third, as Americans expect a safe and secure food supply, USDA will continue to serve in the critical role of ensuring the food we put on the table to feed our families meets the strict safety standards we've established. Food security is a key component of national security, because hunger and peace do not long coexist. And fourth, Perdue will always remember that America's agricultural bounty comes directly from the land."
In announcing Perdue's confirmation, Senator Pat Roberts, Chairman of the Senate Committee on Agriculture, Nutrition and Forestry, said "I'm pleased that the U.S. Senate was able to work in a bipartisan fashion to confirm Governor Perdue," Roberts said. "I have faith that Governor Perdue will put the needs of farmers and ranchers first, and I know that rural America is thankful to have such a qualified Agriculture Secretary on their side."
Secretary Perdue had the support of 650 agriculture- and food-based organizations, including ASAS, and is described in this week's news releases as a voice, an advocate, and a champion for agriculture. He was also named as chair of the Interagency Task Force on Agriculture and Rural Prosperity, established by executive order by President Trump on April 25. This task force "shall identify legislative, regulatory, and policy changes to promote in rural America agriculture, economic development, job growth, infrastructure improvements, technological innovation, energy security, and quality of life." Among its goals, the task force proposes to remove barriers, advance technology, and promote agricultural and STEM based education.
Following the nationwide March for Science on April 22, one notable absence in news and press releases related to Secretary Perdue's first day on the job is commitment to U.S. investment in agricultural based research. As noted in a previous issue of Taking Stock, other countries have outspent the U.S., on a percentage basis, in agricultural research. A commitment to "rural prosperity" for America's farmers and ranchers cannot be met unless a strong commitment is made to support research capacity and the innovations and advances in technology that are ultimately driven by basic and applied research.
Photo: Sonny Perdue, with his wife Mary, takes the oath of office administered by Associate Justice Clarence Thomas.