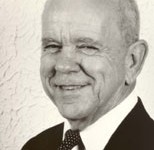 Dr. Tilden Wayne Perry, Professor Emeritus in the Department of Animal Sciences at Purdue University, passed away at the age of 97 on April 11, 2017.
Dr. Perry's career at Purdue spanned 43 years where he was renowned for his research, outreach and instruction focused on beef cattle nutrition. He was named an ASAS Fellow in 1982 and received the ASAS Morrison Award in 1991.
In 2008, Dr. Perry received a Distinguished Animal Sciences Alumni Award from the Department of Animal Sciences at Purdue University. An Animal Sciences newsletter announcement discusses his achievements and honors, including those associated with ASAS and the Journal of Animal Science. It reads:  Tilden Wayne Perry, of Van Buren, Arkansas, received his master's degree in 1948 and his doctorate degree in 1950 — both in animal sciences at Purdue. He spent 43 years serving the Purdue University Animal Science Department in research and teaching. Perry's accomplishments include 150 published abstracts, 161 scientific papers, 323 departmental publications and 4 university text books. Perry served on the National Academy of Science/National Research Council Committee on Animal Nutrition, was active in the American Society of Animal Science (ASAS) and the editorial board of the Journal of Animal Science. He served as a charter member and historian of the American Registry of Animal Science. Perry has earned three ASAS awards for his work, including the Gustav Bohstedt Award for Minerals (1978), American Feed Industry Nutrition Research Award (1980) and the F.B. Morrison Award (1990).
The following obituary also pays tribute to Dr. Perry:
Dr. T. Wayne Perry passed away at the age of 97 on April 11, 2017, in Van Buren (Arkansas) due to natural causes. He was a resident of Legacy Heights Retirement Home in Van Buren for a number of years and previously lived in West Lafayette, Ind.
Wayne was born on June 21, 1919, in Timewell, Ill., to Tilden Perry and Edna Mills Perry. He grew up with three siblings and he spent much of his childhood raising livestock on his parents' farm in western Illinois. He graduated from Clayton High School, Clayton, Ill. After receiving his bachelor's degree, Wayne received both his master's and Ph.D. degrees from Purdue University. During World War II, he worked on the Manhattan Project building the world's first nuclear pile under the Chicago University football stands. Subsequently, he was hired in the Animal Science Department of Purdue University where he conducted classes and research in the area of beef cattle nutrition. He received many awards and much recognition in his field, capped by receiving the Morrison Award in 1991, the highest recognition awarded by his profession. Wayne retired from Purdue as a professor emeritus in 1989.
Wayne and his first wife, Annette Leonard, had two sons. He later married his current wife, Virginia "Ena" Lorene Alvy of Van Buren, in 1974. Wayne was the proud father of Harold (deceased), James and stepson Mark Remes. He is the grandfather of Jessica Davis, Stirling Perry, Kelly Carling and Nick Remes. He has four great grandchildren, Ebba, Cissi, Cato and Toby.
He often said the most important things in his life, in rank order were his Lord, his family and his work.
"Perfection is impossible; just do your very best."
Arrangement and cremation are under the direction of Ocker Funeral Home in Van Buren. No formal service will be held at this time.
Online tributes: www.ockerfuneralhome.com.