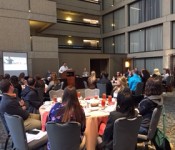 By Amanda Jones and Kelsey Phelps
Updated May 8, 2017: No fee for Graduate Student Symposium.
Numerous student symposia and events will be held at the 2017 ASAS-CSAS Annual Meeting & Trade Show in Baltimore, MD. The student theme this year, "Fueling the Future," will focus on energizing students as they aspire to become independent professionals, while encouraging life-long dedication to animal science.
The Graduate Student Symposium, entitled "Fueling the Future of Animal Science," will be held on Monday, July 10, 2017 from 9:30 AM to 12:30 PM. This symposium includes speakers from all career stages— academic and industry. Together, the speaker topics will encourage graduate students to broaden their involvement in animal science, provide valuable advice for career navigation, and highlight contributions for a bigger purpose in animal science. The symposium will conclude with an open discussion between speakers and students.
The speakers and titles are listed below.
Dr. Connie Larson, Zinpro Corporation — Committed to animal science: An industry perspective on the future of animal research and collaboration
Dr. Sarah Reed, University of Connecticut — Be the impact: A graduate student's role in mentoring undergraduates in animal science
Dr. John Gonzalez, Kansas State University — Navigating pre-tenure: Strategies to establish a successful early career in animal science
Dr. Greg Lardy, North Dakota State University, ASAS Past President — Toward an impactful career: Integrating your passion for animal science with career choices and opportunities
The Undergraduate Lunch and Learn, "Fueling Future Animal Scientists," will be hosted on Sunday, July 9 during the lunch hour. This lunch session is only $5 (please register for the meeting and this ticketed event before May 26). It will be an open discussion with animal science professionals from several different backgrounds and careers. The Lunch and Learn is geared toward undergraduate students who wish to pursue a career in Animal Science, but are unsure of all the different career avenues they could take. Dr. Jodi Sterle, Iowa State University, and Dr. Jay Daniel, Berry College, will share information about the current dynamics of students in Animal Science. Dr. Matt Ritter from Elanco Animal Health and Dr. Derris Burnett from Mississippi State University will discuss how they landed in their current careers. The lunch will end in a round table discussion to give everyone an opportunity to ask questions to help fuel their career aspirations in Animal Science.
Graduate and undergraduate students are encouraged to register for the 2017 Annual Meeting before May 26, 2017 for discounted rates!