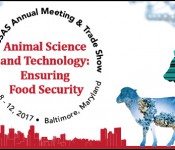 We are in need of judges for student poster presentations at the 2017 ASAS-CSAS Annual Meeting in Baltimore. This is a great way to connect with and mentor our undergraduate and graduate members!
A total of 70 student presentations (poster presentations only) have been accepted for the 2017 Annual Meeting. The Ph.D. poster competition takes place on Sunday, July 9, between 7:15-9:15 a.m. The M.S. poster competition is Monday, July 10, between 7:15-9:15 a.m. The undergraduate poster competition is scheduled for Tues., July 11, between 7:15-9:15 a.m.
If you are willing to serve as a judge please contact Dr. Mike Tokach [mtokach@ksu.edu; 785-532-2032].
The 2017 ASAS-CSAS Annual Meeting & Trade Show is July 8-12, in Baltimore, Maryland. Visit the 2017 Annual Meeting website for registration, housing, and program information. A draft schedule also is available.