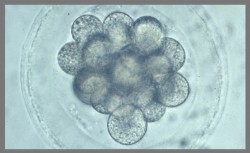 How many cells are in this bovine embryo? The answer lies in the Animal Science Image Gallery.
If you need to know now… This is a bovine embryo with about 16 cells, as it would appear in the uterus of a cow about 4 days after ovulation. The diameter of this embryo (about 0.1 mm) likely changed little from that immediately after fertilization. Credit for this image goes to Dr. Harold Hafs and Hoard's Dairyman. Dr. Hafs has been a longtime advocate of the Gallery and played an integral role in the development of the Gallery several years ago.
Search the many categories available in the Gallery and download or submit images today!
Photo Credit: Harold Hafs
Publisher: Hoard's Dairyman