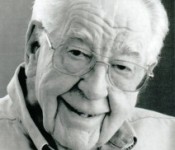 Dr. Alvin Warnick, a longtime ASAS member and pioneer in beef cattle reproduction, died Sunday, May 7, at the age of 96.
Dr. Jack Payne, Senior Vice President of Agriculture and Natural Resources at the University of Florida, paid tribute to Dr. Warnick in the Florida Cattleman & Livestock Journal upon Dr. Warnick's induction into the Florida Agricultural Hall of Fame. That tribute is as follows:
Alvin Warnick was rousted out of his bunk at 2 a.m. and summoned to a tarmac to check radio equipment on planes.
The planes participated in the D-Day invasion. Warnick remembered that every single one of his planes and pilots returned to base in England safely.
His legacy as a member of the Greatest Generation goes beyond military service. In his career in the cattle industry, Warnick was a member of the Greatest Generation of scientists.
Warnick entered the cattle industry as an academic at a pivotal moment. His generation didn't have to just make the case for their specific discoveries in cattle nutrition or reproduction. Sometimes they had to make the case for science itself.
Despite decades of University of Florida contributions to animal science, it was a simpler time in Florida ranching when Warnick began his career in the early 1950s. In some places there was not much more herd management than an annual harvest of calves.
Warnick worked hard to improve reproductive management and genetics of the Florida cow herd. Many of the practices routinely performed on Florida ranches were introduced by Warnick and his colleagues.
An unfamiliar young animal scientist, such as Warnick was in those days, may have been regarded by a significant number of the cattle industry old guard as a whippersnapper.
Fortunately, there are always progressive ranchers who are the early adopters of new ideas, and they gave Warnick and his colleagues an ear. Their more skeptical neighbors waited to see how new science-based tools and techniques worked before adopting them. In other words, the herd followed a few leaders.
Just after World War II, the Florida herd still had a lot of what you might call cracker cows. About the only scientific principle applied to their management was survival of the fittest.
Warnick helped change that. He wrote the book on how to manage cattle reproduction. Actually, he co-wrote three.
The first, Crossbreeding Beef Cattle, was the first scientific text to delineate the principles for successful crossbreeding. He also taught and mentored 70 master's and Ph.D. students who became a who's who of the Florida cattle industry.
Those are some of the reasons Warnick, who retired from the UF/IFAS animal sciences department in 1990 after a 37-year career, was inducted into the Florida Agricultural Hall of Fame in 2015. 
With his self-deprecating wit, Warner said at the time, "If you live long enough, these things happen." At the Hall of Fame ceremony, he referred to a couple of his fellow inductees as "the Duda boys." Two of them were his students!
An annual cattle course in Lake Placid is called the Alvin C. Warnick Reproductive Management School, and into his 90s Warnick still taught parts of all four days, as well as continuing to travel internationally to attend professional conferences.
Mike Fields, a retired UF/IFAS animal sciences faculty member, remembered a trip decades ago to conduct studies in South Florida. The work continued through dinner, but Warnick wasn't done. After the meal, he urged the group, "Boys, come over to my room and let's talk about cows!"
It wasn't just Warnick's expertise that made him a giant in animal science. It was his love of inquiry, of teaching and of serving as an ambassador for science that helped him shape an industry.
His cause continues today. It's a never-ending challenge to convince people of the benefits of science. One could even argue that the public in general had more faith in science in the Sputnik era than they do today, when we see cases in which people choose to disbelieve scientific results and fear science itself.
That's why it's important to recognize Warnick and his academic colleagues as members of a greatest generation.
In lieu of flowers, Dr. Warnick's wishes are for donations to the charity of your choice, or the American Cancer Society, or the Koger-Warnick Scholarship Fund (contact the University of Florida Department of Animal Sciences about the scholarship fund).