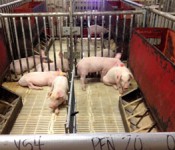 A team of researchers in the Texas Tech University College of Agricultural Sciences & Natural Resources is working to reduce the effects of social, environmental and nutritional stressors on young piglets by showing how the anti-inflammatory drug cortisol and its analogs can regulate a pig's immune system, allowing it to grow normally.
To that end, assistant professor Anoosh Rakhshandeh and his collaborators, professor John McGlone and research assistant professor Arlene Garcia-Marquez, all from the Department of Animal and Food Sciences, received a grant for $296,000 from the United States Department of Agriculture's National Institute of Food and Agriculture (NIFA).
The funded research proposal focuses on the use of cortisol analogs (CA) as an alternative to antibiotics. "We hypothesized that cortisol analogs mitigate the negative effects of immunological stress and improve digestive physiology and overall productivity and robustness of the newly weaned pigs," Rakhshandeh said in this press release. "In addition, we will explore the underlying mechanism through which cortisol analogs improve the productivity and welfare of piglets."
The goal is to minimize the impact stress has on newly weaned pigs, which could lead to the production of a more robust and resilient pig. Read more about the research.
Photo: http://today.ttu.edu/posts/2017/05/pigs