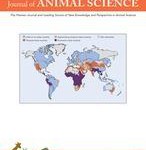 Several new articles have been added to the First Look section of the Journal of Animal Science.
First Look articles are posted immediately following acceptance to provide faster publication and better access to the newest research.
These articles are posted prior to technical editing, author proofing, and formatting.
The articles below were added to First Look between May 8 and May 11. Access the full text of each article in First Look. To view articles, you must have a current subscription to the Journal of Animal Science.
FEED WITHDRAWAL AND TRANSPORTATION EFFECTS ONSALMONELLA ENTERICA LEVELS IN MARKET WEIGHT PIGS
Susan Eicher; Marcos Rostagno; Donald Lay
doi: 10.2527/jas2017.1454; Date posted: May 11, 2017
ABILITY OF GARLIC-DERIVED DIALLY DISULFIDE AND DIALLYL TRISULFIDE SUPPLEMENTED BY ORAL GAVAGE TO MITIGATE EFFECTS OF AN ACUTE POST-WEANING FEED AND WATER DEPRIVATION EVENT IN NURSERY PIGS
Nathan Horn; Guy Miller; Kola Ajuwon; Layi Adeola
doi: 10.2527/jas2017.1545; Date posted: May 11, 2017
A MAJOR GENE FOR HOST RESPONSE TO PORCINE REPRODUCTIVE AND RESPIRATORY SYNDROME IS NOT UNFAVORABLY ASSOCIATED WITH OVERALL PERFORMANCE UNDER NON-CHALLENGING CONDITIONS IN COMMERCIAL PIG LINES
Jenelle Dunkelberger; Pramod Mathur; Marcos Lopes; Egbert Knol; Jack Dekkers
doi: 10.2527/jas2017.1524; Date posted: May 11, 2017
EFFECTS OF INTRAVENOUS LIPOPOLYSACCHARIDE ADMINISTRATION ON FEED INTAKE, RUMINAL FORAGE DEGRADABILITY AND LIQUID PARAMETERS, AND PHYSIOLOGICAL RESPONSES IN BEEF CATTLE
Katana Lippolis; Reinaldo Cooke; Kelsey Schubach; Rodrigo Marques; David Bohnert
doi: 10.2527/jas2017.1502; Date posted: May 11, 2017
EFFECT OF POST-ETHANOL EXTRACTION SORGHUM SILAGE AS A FORAGE SOURCE IN GROWING AND FINISHING DIETS ON STEER PERFORMANCE, CARCASS CHARACTERISTICS AND NUTRIENT DIGESTIBILITY
Christopher Blank; Dan Loy; Stephanie Hansen
doi: 10.2527/jas2017.1511; Date posted: May 09, 2017
CALIBRATION AND VALIDATION OF A CARBON OXIDATION SYSTEM, DETERMINATION OF THE BICARBONATE RETENTION FACTOR, AND THE DIETARY PHENYLALANINE REQUIREMENT, IN THE PRESENCE OF EXCESS TYROSINE, OF ADULT, FEMALE, MIXED BREED DOGS
Anna Shoveller; Jessica Danelon; James Atkinson; Gary Davenport; Ronald Ball; Paul Pencharz
doi: 10.2527/jas2017.1535; Date posted: May 09, 2017
INCREASING DIETARY INCLUSIONS OF CAMELINA CAKE FED TO PIGS FROM WEANING TO SLAUGHTER: SAFETY, GROWTH PERFORMANCE, CARCASS TRAITS AND N-3 ENRICHMENT OF PORK
Miranda Smit; Eduardo Beltranena
doi: 10.2527/jas2016.1308; Date posted: May 08, 2017
EVALUATING THE IMPACT OF BREED, PREGNANCY AND HAIR COAT ON BODY TEMPERATURE AND SWEATING RATE OF HAIR SHEEP EWES IN THE TROPICS
Robert Godfrey; Whitney Preston; Serena Joseph; Lucas LaPlace; Peter Hillman; Kifle Gebremedhin; Chin Lee; Robert Collier
doi: 10.2527/jas2016.1125; Date posted: May 08, 2017
COMPARATIVE GUT PHYSIOLOGY SYMPOSIUM: THE MICROBE-GUT-BRAIN AXIS
Andrew Foote
doi: 10.2527/jas2017.1671; Date posted: May 08, 2017
EFFECTS OF DRIED DISTILLER'S GRAINS AND LASALOCID INCLUSION ON FEEDLOT LAMB GROWTH, CARCASS TRAITS, NUTRIENT DIGESTIBILITY, RUMINAL FLUID VOLATILE FATTY ACID CONCENTRATIONS, AND RUMINAL HYDROGEN SULFIDE CONCENTRATION1
Alison Crane; Reid Redden; Kendall Swanson; Benjamin Howard; Tyler Frick; Kasey Maddock Carlin; Chris Schauer
doi: 10.2527/jas2017.1369; Date posted: May 08, 2017