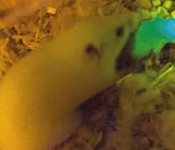 Here is an interesting development in the world of science: Mice have successfully reproduced after being implanted with bioprosthetic ovaries created with a 3-D printer, according to research published in Nature Communications.
Read a summary of the research in Mice Successfully Reproduce with 3-D Printed Ovaries in TheScientist online.
The research has important implications for cancer patients of child-bearning age whose cancer treatments have left them sterile.
Source: SmartBrief, Inc.
Photo: 

NATURE COMMUNICATIONS