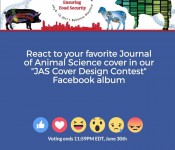 The Journal of Animal Science (JAS) made incredible strides in 2016! To celebrate this banner year, Dr. Jim Sartin, Editor-in-Chief, would like to ask ASAS members to vote for their favorite cover design from 2016 on Facebook.
In the Facebook photo album on the ASAS Facebook page, click on the individual photo you would like to vote for and "react" to your favorite JAS cover! The picture with the most "reacts" will win the JAS Cover Design Contest.
Please vote for your favorite JAS cover before 11:59 PM (EDT) on June 30, 2017. The winning cover design will be framed and presented to the authors at the 2017 Annual Meeting in Baltimore.
ASAS would like to thank JAS authors, reviewers and readers for working so hard to ensure that JAS is recognized internationally as the premier journal in animal science.
Vote for your favorite 2016 JAS cover and help ASAS continue to recognize this success!