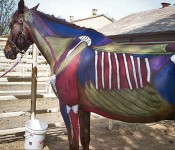 This isn't something you see everyday! But you can find it under "Horses" in the Animal Science Image Gallery.
The skin of this horse was painted with non-toxic paint to show some of the muscles and bones that are involved in movement. This demonstration was done during a public open house at the University of California.
Search for, download or submit images to the Gallery at: www.animalimagegallery.org. There is no charge to download or submit images if you are an ASAS member.
Photo credit: Madeline McCurry-Schmidt, former ASAS Scientific Communications Associate