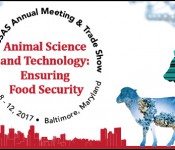 The 2017 ASAS-CSAS Annual Meeting & Trade Show is just a few short weeks away in Baltimore, Maryland.
Now online! View the draft program, which contains all conference information and the scientific program.
Also, download the Mobile App:
WebProgram makes it possible for you to search the scientific program online as you prepare for your trip to Baltimore.
Find out more about Oral Presentation Upload and Competition Poster Information.
Register today and join us in Baltimore!