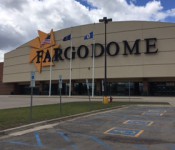 The Western Section ASAS meets this week, Tuesday, June 20, through Friday, June 23, in Fargo, North Dakota. The meeting kicks off at the FargoDome with a Beef Symposium entitled, "Are We Still Fulfilling the Land Grant Mission?"
Tuesday's program also includes tours of the North Dakota State University Beef Cattle Research Complex and the Animal Nutrition and Physiology Center, as well as an opening reception at the North Dakota Horse Park. See more information in the WSASAS program.
Download the Meeting App to your mobile phone! The app is available to all attendees at no additional cost. On your mobile device, visit: https://event.crowdcompass.com/wsasas2017.