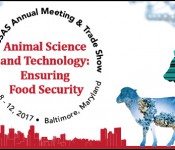 ASAS and CSAS are pleased to announce the completion of the ASAS-CSAS Annual Meeting & Trade Show program. In today's world of rapidly changing technology, everyone has a favorite way to access meeting information. For 2017, participants can access information in any of the following ways.
PDF of program: Please note the program book this year is abbreviated as we begin the transition to all electronic programs in 2018. But for now, participants can still find information about the meeting, a full schedule of social events and a complete listing of all abstracts in the program PDF.
On-site Program Book: Onsite all participants will receive a spiral bound copy of the program book described above.
Online scientific program with associated abstracts: The abstract collection method used by ASAS allows the listing of all scientific sessions and associated abstracts online. Easily move between sessions.
Meeting App: The Meeting App is truly an interactive experience, with 50 different ways to search and schedule your meeting. Always have the current information at your fingertips with program updates. In addition to scheduling and searching, all abstracts are connected to their presentations, there are interactive mapping features, games, the ability to communicate within the meeting community and many other features. A series of videos that demonstrate the App features will be available soon.
Please note, it isn't too late to register for the meeting. Take a look through the program and plan to attend! Housing also remains open with hotel rooms available at the Holiday Inn.