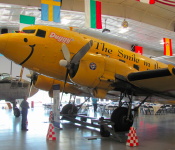 The 89th Annual Meeting of the Western Section of ASAS wraps up today, June 23, with the section's Business Meeting in Fargo, North Dakota. The meeting featured many scientific, networking and social events.
Yesterday's program included the Young Scholar Recognition Program, several oral and poster sessions, a Graduate Student Lunch and Learn, and a symposium dedicated to Dr. Dennis "Doc" Hallford. The day culminated with an Awards Banquet at the Fargo Air Museum.
Watch for award winner announcements in the next issue of Taking Stock.
In 2018, the WSASAS meets in Bend, Oregon. We hope to see you there!