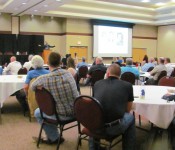 The Western Section ASAS shared memories of Dr. Dennis Hallford during a symposium at the 89th Annual Meeting of the Western Section ASAS, held in Fargo, N.D., June 20-23. "Doc" Hallford passed away in December 2016.
This Taking Stock article pays tribute to Doc Hallford, who spent 41 years with the Department of Animal and Range Sciences at New Mexico State.
Dr. Ryan Ashley, New Mexico State University, provided introductory remarks and recalled memories of Doc Hallford in his presentation entitled "Doc Hallford: Chasing Hormones Ya'll."
Dr. Ashley described Doc as a pillar for not only the Department of Animal and Range Sciences at NMSU, but also for the entire university. He was a shepherd and mentor to many, Dr. Ashley said, concluding his tribute with several "keywords" that describe Doc Hallford: legacy, selfless, kind, caring, mentor, advocate, encouraging, and dedicated.
Dr. Russ Anthony, Colorado State University, discussed "Reproductive Endocrinology: History, Advances and Challenges for the Future."
"The Manner that Heifers Attain Puberty may Indicate Their Reproductive Performance and Longevity," was discussed by Dr. Andrea Cupp, University of Nebraska-Lincoln.
Following the speakers, symposium attendees were able to share their memories of Doc Hallford and visit with colleagues and friends during the reception.
The symposium was sponsored by Regional Project W3112.