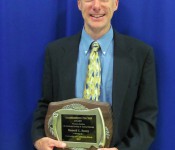 June 22, 2017 – Dr. Russell Hovey has been named the recipient of the Distinguished Teaching Award by the Western Section of the American Society of Animal Science (WSASAS) during its annual meeting this week in Fargo, North Dakota.
Dr. Hovey is Professor of Animal Science and Mammary Gland Biologist in the Agricultural Experiment Station at the University of California-Davis. He received a Bachelor of Agricultural Science (Animal Sciences) from the University of Queensland, Australia, and then a Ph.D. in Animal Science from Massey University.
Since arriving at the University of California-Davis in 2007, Dr. Hovey's laboratory has focused on the endocrine regulation of mammary gland growth and function, as well as cancer. His contributions to lactation were recognized by the American Society of Animal Science where he received the H. Allen Tucker Lactation and Endocrinology Award in 2011.
Dr. Hovey has taught several classes and strives to build an exceptional learning environment outside of the classroom. He is dedicated to undergraduate learning and committed to the development of strategies that improve the overall educational experience and give tools for life-long learning.
In recognition of his ability to change lives, he was the recipient of the student administered Department of Animal Science Outstanding Faculty Advisor Award—a "people's choice" award presented by the undergraduates. Dr. Hovey was also recently recognized for his teaching commitment and innovation with the University of California-Davis Academic Senate Distinguished Teaching Award.
The Distinguished Teaching Award is sponsored by Elanco Animal Health and the Western Section of ASAS.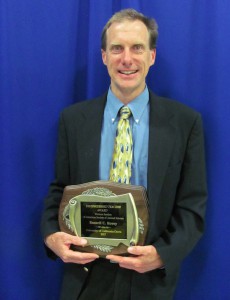 Media contact:
Kim Schoonmaker
ASAS Scientific Communications Associate
(217) 356-9050