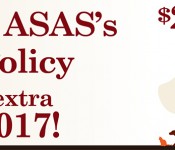 ASAS has launched a new campaign to support our Public Policy program. It is called the $20 in '17 Campaign. ASAS is asking each professional member to donate an extra $20 in 2017! Please read this letter to learn more about this important effort.
Dear ASAS Members,
As many of you know, Public Policy has been an ASAS passion for the last 25 years. Our public policy program has undergone a number of changes and has weathered a few storms. Today, we keep our public policy program alive through a combination of strategic partnerships (i.e., NAAAS, ACSESS, FASS, CAST and The Randel Group) and our own individual programs. As part of our strategic plan launch in July, we will begin to more fully develop our plan, and in particular, we will work on developing a business model to provide enhanced long term support of ASAS public policy programs.
The following are some of our most visible public policy programs:
ASAS funds several interns per year on Capitol Hill through a combination of ASAS board funding and funding from Foundation Appreciation Clubs (Zimbelman, Hafs, Britt, Boyd and Glenn).
Four "Snack and Facts" briefings each year.
ASAS Student Hill Day each year. This year ASAS brought over 50 students to the Hill to discuss the need for research funding.
ASAS Grand Challenges.
Distribute Animal Frontiers to Congressional offices.
Publish a monthly policy newsletter, Taking Stock D.C.
ASAS manages to accomplish these programs on comparatively few dollars (approximately $80,000 per year). As we ramp up public policy, we need to grow economic support. Our first effort will be the $20 in '17 program. The goal of this program is to ask each professional member to donate an additional $20 in 2017. Professional membership is at an all-time high and an additional $20 from each professional member could generate the full $80,000 that our public policy program currently costs per year!
We are asking for relatively small donations to achieve a big goal. But we are excited to announce that as of today, we are starting with $15,000 in matching funds. Visit the $20 in '17 program website to see who has donated matching funds! As we fundraise, and funds that have been pledged are matched, they will be released into the program!
Your $20 donation to this fund will go a long way toward beginning to fund enhanced Public Policy programs. And remember, for the first $15,000 in donations, the donation is doubled from the matching funds. Please show your support and passion for these tremendous programs by donating $20 today. Donations can be made here and are tax deductible!
Thank you for your continued support of the ASAS Public Policy Program!