The 2017 ASAS-CSAS Annual Meeting & Trade Show held its Opening Session on Saturday, July 8. Prior to the program, attendees enjoyed ice cream donated by the University of Connecticut Department of Animal Science.
The Opening Session included a welcome message by ASAS President, Dr. Debora Hamernik.
Dr. Hamernik shared a list of the society's accomplishments during the past year. Among them, she introduced a new ASAS logo (one of three versions shown here), as well as the newly revised ASAS.org website!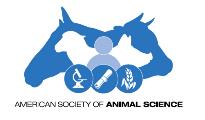 Dr. Hamernik recognized and thanked the Program Committees and Overall Program Chair, Dr. Sally Johnson.
Dr. Johnson thanked the Annual Meeting Sponsors for their generous support of the meeting. Please view the list of Platinum Level, Gold Level, Silver Level, Bronze Level, Donor Level, and Contributor Level sponsors!
CSAS President, Dr. Filippo Miglior, recognized international attendees at the 2017 Annual Meeting. More than 30 countries were represented at this year's meeting.
Dr. Janet Remus, Dupont, presented the FASS-AFIA New Frontiers in Animal Nutrition Award to Dr. Xingen Lei from Cornell University.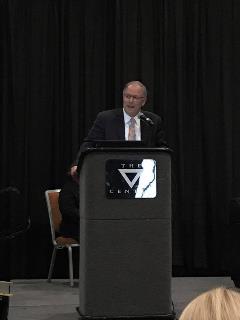 Dr. Craig Beyrouty (at right), Dean of the College of Agriculture & Natural Resources at the University of Maryland, gave Annual Meeting attendees an introduction to Maryland's agricultural industry. Dr. Beyrouty said agriculture is the state's #1 industry, although the government is the #1 economic driver.
Presentations by the 2017 AnimalX speakers followed Dr. Beyrouty's address. Highlights from their talks can be found here and please see photos of the speakers on the ASAS Facebook page.