Dr. Sung Woo Kim, North Carolina State University, is the 2017 recipient of the AFIA Award in Nonruminant Nutrition Research, presented to him during the ASAS-CSAS Annual Meeting, held July 8-12 in Baltimore, Maryland.
Dr. Kim received a Ph.D. degree from the University of Illinois in 1999. He has developed a world-class and productive research program in pig nutrition. The results of his outstanding research have significantly advanced our knowledge about utilization of protein, amino acids, and other nutrients in growing-finishing, gestating, and lactating swine.
Dr. Kim is currently a Professor of Nutrition at North Carolina State University. Together with his graduate students, visiting scholars, and collaborators, he has published 153 peer-reviewed papers, 17 book chapters, and given 172 invited talks in 22 countries. In recognition of his seminal contributions to swine nutrition, Dr. Kim has received the Early Career Achievement Award and Outstanding Young Scientist Award from the American Society of Animal Science, the Vernon Young International Award for Amino Acid Research from the American Society for Nutrition, and the Outstanding Research Award from the Asian Animal Science.
The American Feed Industry Association Award in Nonruminant Nutrition Research recognizes research excellence in the nutrition of nonruminant animals. The award is sponsored by the American Feed Industry Association.
ASAS is a professional organization that serves more than 7,000 students, animal scientists, allied industry and producers around the world.
Media contact:
Kim Schoonmaker
ASAS Scientific Communications Associate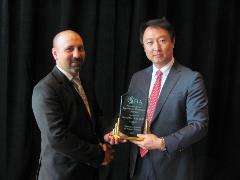 Photo: Dr. Sung Woo Kim accepts the AFIA Award in Nonruminant Nutrition Research from Dr. Justin Bundy, AFIA.