The Southern Section of the American Society of Animal Science will hold its Annual Meeting February 3–6, 2018 in Fort Worth, Texas.
The scientific program will include the popular Bill E. Kunkle Interdisciplinary Beef Symposium. The symposium will focus on "Recent Advances in Replacement Heifer Development" and will be held the morning of Monday, February 5.
One of the invited speakers for this symposium is Dr. Justin Rhinehart, University of Tennessee-Knoxville. Dr. Rhinehart will speak on "Lessons Learned from University Heifer Development Programs."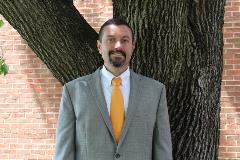 Dr. Rhinehart is Associate Professor and Extension Beef Cattle Specialist for the University of Tennessee Department of Animal Science. He earned his B.S. in Agriculture and Extension Education from the University of Tennessee and M.S. in Reproductive Physiology from the University of Kentucky where he investigated the use of dietary fat supplementation to alleviate the negative effects of endophyte-infected tall fescue on reproductive performance of beef heifers. He then earned his Ph.D., from the Faculty of Reproductive Physiology at West Virginia University, investigating pregnancy loss in cattle associated with changes in steroid hormone concentrations and placental development.
Prior to joining UT Extension, Dr. Rhinehart served as an Extension Beef Cattle Specialist at Mississippi State University for three years. Justin's goal is to translate research findings into management practices that improve the profitability of beef cattle production.
The Bill E. Kunkle Interdisciplinary Beef Symposium will include presentations by Dr. David Lalman and Dr. Gary Williams.
Meet Dr. Lalman in this Taking Stock article.
Meet Dr. Williams in this Taking Stock article.
Watch for more speaker profiles soon!
Register online for the 2018 Southern Section Meeting. The early registration deadline is December 1, 2017. Download the PDF Registration Form.
For more information about the meeting, including the preliminary schedule, visit the 2018 Southern Section Meeting website.