An equine symposium focused on "Innovative approaches to reach equine audiences" is being planned for the 2018 Midwest Meeting!
The Midwest Equine Program Committee is pleased to introduce the symposium's speakers. Here's a sneak peek at who they are and what they will be talking about:
"Goals, Objectives and Slo's - Building Effective Assessment Plans in Equine Science," by Dr. Karin Bump, Cornell University Cooperative Extension.

Dr. Bump is Executive Director of Cornell Cooperative Extension-Madison County. Watch for more bio to come!

"Utilizing Social Media to Enhance Your Equine Program," by Taylor Fabus, Michigan State University.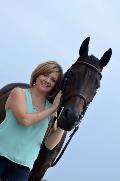 Ms. Fabus grew up in Michigan showing American Quarter Horses with her family. As her college career began, her showing came to a halt, but her interest in the horse industry has remained strong. Taylor received her B.S and M.S. Degrees in Animal Science from Michigan State University, where her studies focused largely on Extension and education programming. Now in her role as a Michigan State University Extension educator Taylor is responsible for the state-level 4-H horse programming in Michigan. Taylor is actively involved in eXtension and serves as the Horse Quest Community of Practice's Social Media Chair. Additionally, for her teaching responsibilities she coaches the MSU Horse Judging Team and advises the MSU Equestrian Hunt Seat Team. Taylor now lives on a large horse farm in Ovid, Michigan, with her husband Mitch, daughters Caroline and Claire, and her Quarter Horse gelding Ozzie whom she shows in All-Around events.
"Engage Classroom and Extension Audiences to Maximize Learning Outcomes," by Dr. Craig Wood and Ashley Griffin, University of Kentucky.

Dr. Wood has been associated with the University of Kentucky and Cooperative Extension since 1985. Originally from Texas, he received his B.S. degree from Texas Tech University, and M.S. and Ph.D. degrees from New Mexico State University. Dr. Wood is a Past-President and is a Fellow of the Equine Science Society. Dr. Wood is currently the President of the American Paint Horse Association (APHA), holds an APHA judge's card, and is an APHA Professional Horseman. His first assignment at the University of Kentucky was as the Extension Horse Specialist. In that role, he oversaw all adult and youth equine programming, taught undergraduate equine courses and managed the teaching/research horse facility. He has developed and delivered award winning educational technology based material. His expertise and ability to integrate the latest technologies in educational programming serves him well in his current role of advising Kentucky Cooperative Extension on the strategic use of technology.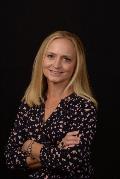 Ms. Griffin serves the eXtension Foundation as the Impact Collaborative Program Manager and was a Professional Development Coordinator and Content Design Leader for over 10 years with eXtension. Previously, she provided instructional design support to the College of Agriculture at the University of Kentucky and gained practical extension programming experience and delivered content through distance learning technologies as the coordinator of the Kentucky 4-H Horse Program. A Kentucky native, Ashley has a Bachelor of Science degree in Animal Sciences and her Master of Science degree in Equine Nutrition from the University of Kentucky.

Ashley currently holds Pinto Horse Association of America (PtHA), Palomino Horse Breeders of America (PHBA) judging cards), and American Paint Horse Association (APHA) judges' cards. As an American Quarter Horse Association Professional Horseman, Ashley has remained active in the stock horse industry and now has a daughter who shows her APHA mare in breed shows.
"The Back-Yard Horse Owner and the Equine Industry at Large," by Dr. Randel Raub, Independent Consultant, Waseca, Minn.

Most recently Dr. Raub was the Director of Research and Marketing for Hubbard Feeds, an Alltech Company. From 2007-2011 he was the Director of Equine Business Development and Technical Service, and from 2001-2007 was Director of Research and New Product Development for the Horse Business Group of Land O' Lakes - Purina Feed. Dr. Raub was the head of the equine teaching and research program at Kansas State University from 1989 – 2001, and was the 1999 College of Agriculture's Faculty Member of the Year. He received his Bachelor and Master of Science degrees in animal science from the University of Illinois and a Ph.D. with a minor in physiology from the University of Kentucky. Dr. Raub is a recognized authority on equine growth physiology and has authored or co-authored numerous refereed articles for scientific journals and is a frequent speaker at educational and industry-related functions.
ASAS thanks the Midwestern Section Extension - Equine Committee, which includes Teresa Douthit (Chair), Danielle Smarsh, and Kathleen Anderson, for securing this great speaker line-up!
Visit the 2018 Midwest Meeting website for meeting registration and housing information.