A new issue of the Journal of Animal Science is now available online.
See the Table of Contents for the November 2017 issue (Volume 95, No. 11).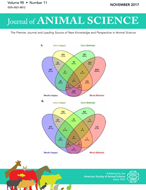 Visit the JAS Archive.
See what's Just Published.
First Look temporarily suspended as we transition publishers. Learn more...
Submit your manuscripts to JAS!