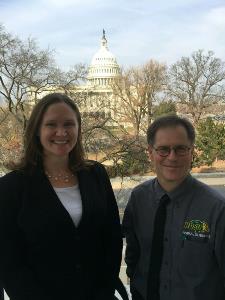 ASAS hosted a Snack & Fact briefing at noon (Eastern) today, December 4, in 1300 Longworth House Office Building in Washington, D.C.
Guest speakers Dr. Kristen Govoni, University of Connecticut, and Dr. Joel Caton, North Dakota State University, discussed "Developmental programming: What mom eats matters," the theme of the July 2017 issue of Animal Frontiers.
Dr. Govoni and Caton presented to more than 50 staffers!
KRISTEN GOVONI is an associate professor in the Depart- ment of Animal Science at the University of Connecticut. Dr. Govoni earned her B.S., M.S., and Ph.D. in Animal Science from the Univer- sity of Connecticut. She spent five years as a postdoctoral research- er in the Musculoskeletal Disease Center of the Jerry L. Pettis VA Medical Center. Dr. Govoni joined the faculty at the University
of Connecticut in 2008. Her research focuses on understanding growth and development at the cellular level to identify methods to improve animal health and efficiency of production.
JOEL CATON is a professor of animal sciences at North Da- kota State University. He earned his B.S. from New Mexico State University, M.S. from the University of Missouri, and Ph.D. from New Mexico State University, followed by postdoctoral research at the University of Missouri. Dr. Caton currently serves as the Asso- ciate Editor-in-Chief of the Journal of Animal Science, and on the American Society of Animal Science Board of Directors. Dr. Caton's research focuses on how nutrition alters metabolic and develop- mental outcomes.