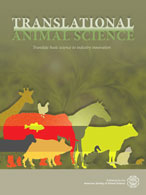 At the end of 2016, we asked the American Society of Animal Science members to take a risk and to start publishing in a new journal: Translational Animal Science (TAS). The publications model is new, it is all open access and as a fledging journal it doesn't have an impact factor. As we close 2017, we want to say thank you to our membership for supporting the journal and to list some of the successes of TAS:
Our experimentation with open review has been praised as novel and ground breaking
Mean submission to acceptance is 34 days
Time from submission to publication is 59 days
Some of the best scientists in our field have already published in TAS
Want to see work in the winter issue (published by Oxford University Press) – it isn't too late to submit.