Dr. Jack G. Riley, age 77, of Manhattan, Kansas, died December 26, 2017.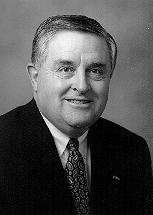 Dr. Riley served as Head of the Department of Animal Sciences and Industry at Kansas State University from 1987-2005.
Dr. Riley was a native of Hamilton, Missouri and earned his B.S. (1962) and M.S. (1963) degrees in Animal Husbandry from the University of Missouri. From 1963 to 1965 he served as Extension Livestock Specialist and from 1965-1966 was an instructor, both in the Animal Husbandry Department at the University of Missouri. He returned to college and earned a Ph.D. in Ruminant Nutrition from the University of Missouri in 1968. He accepted a full-time teaching position in Animal Science at Western Illinois University where he stayed until 1971 at which time he moved to Kansas State University for a 70% teaching - 30% research assignment in the Animal Sciences and Industry Department. Dr. Riley's main interest was teaching and he taught more than 7,000 students in 35 years of active classroom involvement. In addition, he advised at least 30 undergraduate students each year until becoming department head in 1987.
Dr. Riley was active in beef cattle research, especially in the areas of protein requirements, crop residue utilization, growth promoting implants and feed additives. He was faculty coordinator of the beef research unit for 16 years and coordinator of all research activities in the Animal Sciences and Industry Department for three years.
After completing 17 years as department head, Dr. Riley entered a phased retirement program and maintained a 75% appointment with primary responsibilities including Director of the International Meat and Livestock Program (IMLP) and teaching Senior Seminar, Internship and Principles of Feeding.
Dr. Riley was an ASAS Fellow and served as officer and/or director of many professional and university organizations, including the Manhattan Rotary Club. He and his wife, Jan, have two sons that are graduates of KSU.
Complete obituary and memorial service information can be found at themercury.com