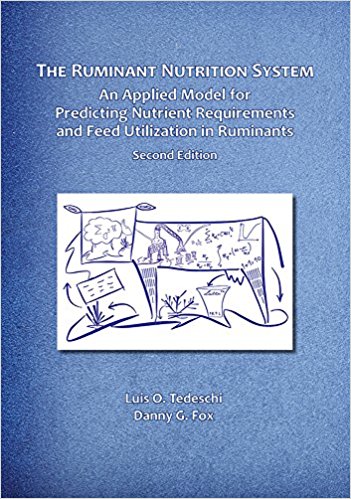 The second edition of The Ruminant Nutrition System: An Applied Model for Predicting Nutrient Requirements and Feed Utilization in Ruminants by Luis Tedeschi and Danny Fox is available at Amazon. The first edition of The Ruminant Nutrition System: An Applied Model for Predicting Nutrient Requirements and Feed Utilization in Ruminants was published in October 2016. Since then the authors have received much positive feedback, encouraging them to revise and expand it. The goals of this book are to document information, share knowledge, stimulate thinking and discussions, provoke criticism to build a better system, challenge the system with new discoveries, and foster learning by young students and teaching of scientists for the future.
Luis Tedeschi is a professor in the Department of Animal Science at the Texas A&M University. He has published more than 200 articles in peer-reviewed journals and book chapters. He is a Texas A&M AgriLife Research Faculty Fellow and the recipient of the 2017 American Feed Industry Association in Ruminant Nutrition Research award. He has served on a committee at the 2016 National Research Council of The National Academies of Sciences, Engineering, and Medicine to revise the 1996 nutrient requirements for beef cattle.
Danny Fox is a professor emeritus of the Department of Animal Science at Cornell University. He has been a member of numerous national committees, including National Research Council committees on Animal Nutrition, Feed Intake, and the 1996 Nutrient Requirements of Beef Cattle. His growth and energy reserves models were adapted by both the 1996 Beef Cattle National Research Council committee and the 2001 Dairy Cattle National Research Council committee.
The Ruminant Nutrition System (RNS) book is divided into four parts. Part I covers the utility of mathematical models and a historical and contemporary perspectives of using modeling for ruminant nutrition in three chapters. Part II deals with dietary supply of energy and other nutrients and compares different ways to determine nutritive values of feedstuffs in seven chapters. Part III has the calculations of animal requirements for energy and other nutrients separated by physiological stages in seven chapters. Finally, Part IV discussed the development of feed library and standardization of analyses of feedstuffs.
In this second edition, the authors indicated that some branches of sciences experience rapid progress because of their economic relevance, as well as the pace of their development and application of novel technologies. One example of such progress is the ability to manipulate microorganisms genomically to produce biofuel more efficiently and in a more sustainable way. Rapid scientific developments pose an interesting challenge for nutrition modeling. They require nutritionists to be constantly aware of discoveries and determine how to adopt them in the livestock industry. It is imperative that nutrition modeling follow the same pace of technological evolution and be responsive to new breakthroughs.
Praises for The Ruminant Nutrition System:
"…it is an impressive work and very useful for student and also for more experienced scientists. I hope to have sometimes time to read it thoroughly and extracts ideas for improving Karoline model… Congratulations of such impressive work."––Pekka Huhtanen, Professor; Swedish University Agriculture Science, Sweden. November 2016.
"… this book is a great achievement and is definitely the most advanced available on nutritional modeling and feeding systems. It is much more complete than the sum of the various NRC books and it provides a lot of new and integrated information. What I liked a lot is your ability in explaining all the biology behind the phenomena, and linking it to the many mathematical models described and their development over time. The introductory historical part is also unique, I am not aware of any other similar description of the integrated history of nutritional models. All this will be extremely valuable for many categories of scientists and professionals: researcher specialized in the area of nutritional modelling, researchers in ruminant nutrition with focus on other areas, Master and PhD students, whom will find a lot of knowledge, documentation and inspiration to develop their own research, professional that want to understand what they do."––Antonello Cannas, Professor; University of Sassari, Italy. January 2017.
"Congratulations on a task very well done. I have cracked open your new book and only wish I could go on vacation from my day job for a few years to digest all of the scientific knowledge you have poured into it… I know and have an appreciation for all the hard work the both of you plus others within your teams have done thru the years and to get it documented and made available for others to use and learn from has to be very fulfilling and rewarding. Job very well done… I did a quick analysis of approximately how many cattle we have sorted with your models thru the years starting in 1994… It would be safe to say over 10 million head sorted with various versions of the Cornell Value Discovery System (CVDS) under our multiple packaged processes… That is a fair sum of money your base scientific technology has put in our clients pockets thru the last 24 years… I know many other business entities are using your work in various production systems. You and your associates have had a huge positive impact on the efficiency of production within the cattle industry… We (PCC, PCC clients, and our business partners) have identified numerous research and development projects we plan to develop with your models being a key element of technology packaged processes for commercial cattle operations. We plan for the processes to be simple to implement, run at the speed of commerce, improve production efficiency, produce high quality beef and add more profitability to the enterprise. (My simple definition of Sustainability)"––Max D. Garrison, DVM, CEO; Performance Cattle Company, LLC, Amarillo. March 2017.
"This book provides an excellent reference to the structure, philosophy and history behind the original Cornell Net Carbohydrate and Protein System project and its further evolution and expansion into the Ruminant Nutrition System. This effort successfully integrated knowledge from a wide variety of distinguished scientists and disciplines into a cohesive framework around which animal scientists can extend their understanding and apply the embedded concepts to real world situations. The significance of that achievement cannot be overstated, and in my humble opinion, this work describes the agricultural equivalent of the Manhattan project. While the mathematics in some sections may not be for the faint of heart, this book represents a comprehensive 'state of the art' of our current understanding of ruminant nutrition in very fine detail. Even the most seasoned of animal scientists will not be able to get through this book in one pass, not so much due to difficulty, but because it serves to stimulate the generation of new ideas to move the science forward in such a positive way."––Michael C. Barry, CEO; AgModels LLC, Tully, NY. April 2017
The second edition of The Ruminant Nutrition System: An Applied Model for Predicting Nutrient Requirements and Feed Utilization in Ruminants, 622 pages, ISBN: 978-1-50669-775-8, is available online via Amazon.com (https://www.amazon.com/gp/product/1506697755). It is published by XanEdu.