Interpretive Summary: The use of alternative protein sources in stocker diets.
By: Dr. Emily Taylor
In December 2017, Translational Anim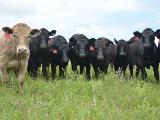 al Science published an article that investigated the effect of using an alternative protein source in stocker diets. Due to increases of feed prices in recent years, alternative feeds have become a hot topic. It was reported that soybean prices have varied over 90% in the last 5 years (USDA, 2017). Therefore, the objective of this study was to evaluate the use of canola meal or sunflower meal as a protein replacement in a corn silage-based stocker diet. In addition, the evaluation of digestibility and the formation of fermentative end products related to feed efficiency was executed.
Two experiments, a feeding trial and an in vitro digestion trial, were conducted. Over a 3 year period there were 276 animals exposed to three treatment groups, all consisting of a silage based ration with the addition of varied protein supplements. Treatments included: 1) Soybean meal supplementation (SBM), 2) Canola meal supplementation (CAN), or 3) Sunflower meal supplementation (SUN), all being fed for a period of 84 days. Although, dry matter intake was similar among groups, increases in average daily gain were reported when animals were fed either SBM or CAN.
The same diets were then subjected to in vitro digestion at 5 time points: 0, 6, 12, 24, and 48 hours, for the evaluation of digestibility and the production of fermentation end products. Digestibility was increased with the addition of SBM in the diet, however, volatile fatty acid production, specifically propionate, increased with the supplementation of both SBM and CAN. These results may explain the increase in average daily gain, as propionate is a precursor for gluconeogenesis and the generation of glucose.
In conclusion, although the addition of both canola meal and sunflower meal reduce the total price of feeding, sunflower meal did not result in a similar performance from the animals. Therefore, it is the author's recommendation that if soybean meal were to be substituted, canola meal would be the best alternative due to the similar performance results and reduced price.

To view the full article "Utilization of canola and sunflower meals as replacements for soybean meal in a corn silage-based stocker system" visit Translational Animal Science.