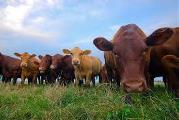 Interpretive Summary: Assessment of risk factors contributing to carcass bruising in fed cattle at commercial slaughter facilities
By: Magna LaFollette
In January 2018, Translational Animal Science published an article that assessed risk factors contributing to carcass bruising at commercial slaughter facilities. Injuries evident in cattle at slaughter, particularly those contributing to bruising, are a concern to both producers and consumers as they cost the industry approximately $35 million annually and can indicate poor animal welfare. Carcass bruising could occur across several time points including loading, transportation, unloading, or at the slaughter facility. If risk factors for carcass bruising can be identified, it may be possible to modify practices and decrease the prevalence of carcass bruising. The objective of this study was to specifically examine relationships between trauma during unloading and prevalence of carcass bruising (as well as other potential risk factors) in finished beef cattle at commercial slaughter facilities.
In this study, 9,860 fed beef cattle were observed during unloading and after slaughter at 3 commercial slaughter facilities. During unloading, traumatic events were scored by an observer counting the number and locations on the body that any cattle that hit the trailer. After slaughter, carcass bruising locations and size were scored using the Harvest audit Program Carcass Bruise Scoring system. For traumatic events, potential risk factors included sex, distance traveled, breed (Holstein or beef), and trailer type ("fat/feeder" vs. "fat" trailer). For carcass bruising prevalence, risk factors investigated included sex, distance traveled, breed, traumatic event prevalence, ribeye area, fat thickness, yield grade, and average carcass weight. Fat/feeder trailers are different from fat trailers in that they have a "doghouse" for very small calves, a counter-balance compartment, and a lower clearance height by approximately 5-8 cm. The cattle observed were from 75 lots and disembarked from 275 trailers.
In this study, average traumatic events prevalence was 20% per lot and carcass bruise prevalence was 68% per lot. Multiple risk factors were identified for traumatic event prevalence and carcass bruise prevalence. Holstein cattle experience more traumatic events in trailers with smaller dimensions and display more carcass bruising than beef cattle breeds. This may be a result of the larger frame sizes of dairy breeds and decreased space allowance in fat/feeder trailers. Across breeds, more carcass bruising is seen in animals with lighter carcass weights, which could be a result of decreased protective fat cover or slower movement from heavier cattle.
Interestingly, traumatic events were not associated with carcass bruising, which indicates that there are many points prior to slaughter that can contribute to carcass bruise prevalence. It is important to note that the current study was focused on cattle coming directly from the feedlot and traveling relatively short distance, as no cattle traveled more than 300 miles. To reduce carcass bruising, producers and researchers could use these results to focus on Holstein cattle – especially in small trailers – and cattle with lighter carcass weights. More research is needed to identify additional risk factors and solutions to carcass bruising across the entire transportation process.
To read the full article " Assessment of risk factors contributing to carcass bruising in fed cattle at commercial slaughter facilities," please visit Translational Animal Science.