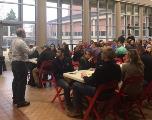 Here at Midwest we have hit the ground running. Yesterday, students from multiple universities began competing in the Academic Quadrathalon.
Yesterday Students Competed In:
Oral Presentations
Laboratory Practicum

Today Students Compete In:
Written Examination
Quiz Bowl (Final Quiz Bowl to be held this evening!)
Check out the final results in tomorrows Taking Stock!

Hope you all are enjoying Omaha!