Award Winners!

Outstanding Young Extension Specialist Award
Dr. Luis Mendonca
Dr. Luis Mendonca attended the Universidade Estadual de Maringá, Brazil, earning his D.V.M. in 2006. Following graduation, he worked in a private practice across various states of Brazil and Bolivia in 2007. As 2008 rolled in, he moved to Tulare, CA and was hired in as a postgraduate researcher working in large dairy operations and dairy production research at the Veterinary Medicine Teaching and Research Center. Wanting to further his knowledge in the dairy industry, he obtained his M.S. degree and completed his residency in Dairy Production Medicine in 2012 at the University of Minnesota. Then in 2013, Dr. Mendonca joined the Department of Animal Sciences and Industry at Kansas State University as a State Dairy Extension Specialist and has a 30% research and 70% extension appointment. Currently he is developing an extension and research program addressing issues facing the Kansas and U.S. Dairy Industry. His goals are to develop and carry out research related to the immune function, health, heat abatement, and reproductive management of dairy cattle.
Outstanding Early Career Agribusiness Award

Dr. Jon Bergstrom
Dr. Jon Bergstrom has a history thriving in animal agriculture and serving his country. Upon completion of his B.S. from Iowa State University, Jon gained insightful experience on a swine farm before returning to school to obtain his M.S. degree. Before continuing his education even further, Jon spent time in research and technical service roles working for Seaboard Foods and Kerber Milling while simultaneously serving as an active member of the Marine Corp and Army Reserves. In 2011, Jon completed his Ph.D. from Kansas State University and is now a dedicated team member for DSM Nutritional Products serving as the Technical Support Manager and Market Development Manager. He works to increase DSM's visibility and expertise in vitamins, carotenoids, feed enzymes, probiotics, essential oil compounds, and dietary acidifiers. Thanks to Jon's extensive education and past work experiences, he is able to pull in a high level of relevance and impact to his ongoing work. Currently, Jon resides with his family in Marshall, MO where he enjoys watching his son, Brett, grow through 4-H livestock involvement.
Outstanding Young Research Award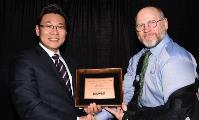 Dr. Brad Kim
Dr. Brad Kim earned his M.S. degree from Kansas State University and continued on to complete his Ph.D. from Texas A&M University where he specialized in Fundamental Myoglobin Chemistry and Meat Processing. He completed postdoc training at Iowa State University and then worked for AgResearch, New Zealand as a Senior Research Scientist. Currently, Dr. Kim is an Assistant Professor in the Department of Animal Sciences at Purdue University. There, he leads the Meat Science and Muscle Biology research program which focuses on identifying key biochemical mechanisms governing meat quality and developing systematic post-harvest strategies to improve meat quality attributes. Throughout his education, Dr. Kim has produced numerous publications including 48 peer-reviewed articles, four book chapters, two patents, 18 proceedings, and 50 abstracts. In addition to his publications, he has been successful in acquiring research grants over $1.5 million as a Principal Investigator, including his recent USDA-NIFA AFRI award and has been appointed to an Honorary Scientist and Advisor of the National Institute of Animal Science, Korea.
Outstanding Young Teacher Award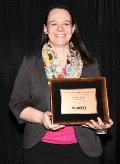 Dr. Anna Dilger
Dr. Anna Dilger is an Associate Professor in Animal Sciences at the University of Illinois and has taught both introductory and advanced courses in Meat Science, Growth and Development, and Contemporary Issues. Since her initial appointment in 2010, Dr. Digler is known for her enthusiasm and sincere engagement she brings to the classroom, motivating her student through the use of student-centered activities and innovative assignments. In addition to her superior teaching styles, she has re-structured the experiential learning program in her department, remains active at the University level learning outcome assessment, and holds leadership roles in the College of ACES Teaching and Learning Academy for faculty and staff. Dr. Dilger's outstanding teaching qualities are consistently recognized by her students, peers, and the College of ACES at the University of Illinois.
Dr. Tim S. Stahly Outstanding Swine Nutrition Midwest Graduate Student Award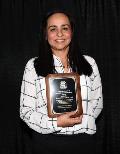 Gloria Casas
Gloria A. Casas is a Ph.D. student in the Stein Monogastric Nutrition Laboratory at the University of Illinois. She is from Bogota, Colombia, where she received a degree in Veterinary Medicine from the National University of Colombia. Following graduation, she worked for four years at a pork company before returning to the National University as an assistant and later an associate professor. In 2014, Ms. Casas was granted a leave of absence to pursue a Ph.D. degree in Swine Nutrition at the University of Illinois focused on determining the composition and nutritional value of rice co-products when fed to pigs. Gloria's publications as a Ph.D. student include 11 peer-reviewed articles, six research abstracts, and two conference proceedings papers. After completing her Ph.D .dissertation in 2017, Gloria Casas will return to her job as a professor at the National University of Colombia.