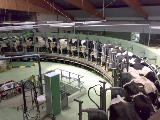 Highlights from the David Schingoethe Symposium
By: Dr. Emily Taylor
Confronting Management Challenges Associated with Increasing Automation on Dairies
Dr. Jim Salfer, University of Minnesota, began the symposium with " Nutritional Strategies for Automatic Milking Systems." He opened with a quote by Doug Kastenschmit, "Management makes milk – Robots only harvest it." An achievable goal for milk production would be >2268 kg/d of milk/robot. A survey taken to evaluate the success of using robots found that most producers needed excellent feed management on the farm. Dr. Salfer discussed different nutritional practices that could aid in meeting, or exceeding this goal. His hot topics included: pellet quality, guided flow vs. free flow, multiple feeds for various nutritional needs, automatic feed pushup and feed costs.
Dr. Daryl Kleinschmit, Zinpro, started his presentation "Considerations for Minimizing Lameness in Automated Milking Systems," with describing the cost of lameness among reproduction, milk, culls, labor and replacement. He reviewed the time budgets that were expected for cows on a conventional dairy farm. Ultimately our goal is for them to manage their own time with a free flow system, however, lameness hinders this goal. Animals who are lame may decrease milk production, increase fetching time and increase the time laying down, which insures her time budgets are off. Dr. Kleinschmit continued to describe many reasons cows become lame, as well as the management practices that can be used to mitigate these problems.
Dr. Brouk, Kansas State University, continued the discussion of free-flow barns vs. guided during his presentation "Facility Design Considerations for New and Retrofitted Automated Milking Systems." Dr. Brouk stated that the expectations of automated milking systems are to multiply, especially in the next 3-4 years. He continued the discussion on pros of both free-flow (best for retrofitting a barn, smaller herds, fewer costs) and guided systems (increase number of cows/robot, larger herds, decrease pellet feeding). Dr. Brouk also provided a detailed description of the many facets of handling facilities and their specific uses.
Dr. Bewley, Bewley Dairy Consulting, pointed out at the start of his presentation that "Data, will change how we manage our cows." During his presentation "On-Farm Application of Precision Dairy Technologies," Dr. Bewley discussed precision dairy monitoring, which includes: milk, behavior, physiological and confirmation. With the help of data, he predicts we will be moving more towards disease detection (mastitis, fresh cow disease) with the potential for genetic traits and calving detection. "Specifically, how do we walk into Best Buy and find something I can put on a cow?" He continued with defining what he thinks ideal technology looks like for the future of our producers.
Look for a link by email to access the talks virtually in the coming days.