Interpretive Summary: Genetic diversity and population structure of the synthetic Pannon White rabbit revealed by pedigree analyses
By Anne Zinn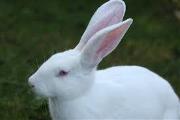 In a study published in the April 2010 issue of the Journal of Animal Science, a Hungary-based research team analyzed the demographic, history, current status, ad efficiency of the mating strategy of the Pannon White (PW) rabbits.
Hungary is the main largest producer and the second largest exporting country of rabbit meat; majority of the rabbit meat produced in Hungary is exported to Italy, Switzerland, and Germany. The PW rabbit breed, developed at Kaposvár University, has a large impact on the Hungarian rabbit breeding sector because 43% of the national rabbit breeding stock was PW in 2004 and 20% in 2007. The main objective of this study was to analyze the demographic, history, current status, and efficiency of the mating strategy for PW rabbits with respect to potential accumulation of detrimental effects and loss of genetic diversity through pedigree data. Results would theoretically provide the basis for a long-term breeding strategy for the PW rabbit breed.
Pedigree analysis was used in this study. While pedigrees are often recorded in rabbit breeding, they are not readily implemented as a tool for analysis. Based on successful studies in horses and cattle and the successful analysis of 2 French rabbit strains, the current research team hypothesized that this method would help achieve their objective. The analysis was carried out on existing data; data were controlled by the head of the experimental farm of Kaposvár University between 1992 and 2007. First the PW population was initiated at Kaposvár University in the late 1980s using New Zealand White does and Californian rabbits. To avoid mating of close relatives and increased inbreeding, a circular mating system was used in which the population was divided into 4 groups: group 1 female × group 4 male; group 2 female × group 1 male; group 3 female × group 2 male; group 4 female × group 3 male. The pedigree analyzed contained 4,749 individuals and 580 founders, and its completeness was 82.1% up to 10 generations and 94.5% up to 5 generations.
Results found the generation intervals through different pathways averaged 1.2 years. In addition, the amount of inbreeding of rabbits was comparable with that of other livestock populations; however, the ancestral inbreeding had a strong dependence on pedigree length. Family variance, inbreeding, and realized effective population size were 84.18, 37.19 and 91.08. Additionally, the effective numbers of ancestors, founders, and founder genomes were 48, 26, and 7.33 respectively.
These results indicate that the mating scheme in this study was relatively effective until recent years in terms of controlling inbreeding and loss of genetic variability. Overall, these results support the necessity of monitoring PW rabbits in term of the accumulation of genetic load and loss of genetic variability. In moving forward, the research team has suggested continuous analysis of inbreeding depression for reproductive and fitness traits with respect to founds, as well as identifying founders that are carriers of undesirable recessive genes. These two analyses should then be followed by a decomposition of inbreeding to the founder level and the use of hypothetical pFiin mating schemes to avoid partial inbreeding of bad founders.
To view the full article, "Genetic diversity and population structure of the synthetic Pannon White rabbit revealed by pedigree analyses," visit the Journal of Animal Science.