It's that time of year again when baby bunnies seem to be the hot item on the gift list. It is important to know the best ways to care for your new pet and keep them happy and healthy.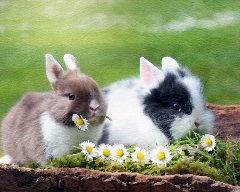 An article published by My House Rabbit describes the importance of pet rabbit care. The article reviews 9 steps to providing for your new pet bunny:
How to set up safe indoor housing.
How to bunny proof your house.
Why it is important to provide fresh hay.
What the bunny needs in addition to hay in their diet: fresh greens, fiber-rich pellets and fresh water.
How to set up a litter box for you new bunny.
Why providing enrichment is important.
Grooming your pet bunny.
Veterinary care: how to find a veterinarian that is rabbit-savvy.
Understanding their unique language and behavior.
To review the full article visit My House Rabbit.