Interpretive Summary: Genotype by environment interaction for stayability of Red Angus in the United States.
By: Jackie Walling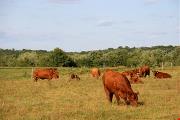 A recent study published in the 2018 February issue of the Journal of Animal Science evaluated the presence of genotype by environment interaction for the stayability in Red Angus in the United States. Healthy reproductive fitness in cattle requires careful sire selection of bulls across a variety of environments. To evaluate sire selection Fennewald et al., published their article, "Genotype by environment interaction for stayability of Red Angus in the United States" targeting how different genotypes respond to environmental variation (GxE interactions) and if that has an effect on how long a cow remains productive in a herd (stayability).
Past research has shown reproductive fitness to be low in heritability suggesting the need to analyze GxE interactions using two methods: genetic correlation (estimating effect of gene influence on two traits in different environments) and calculating the slope of a reaction norm (change in the outcome of a genotype over different environments). The authors specifically denoted GxE to mean "the reranking of sires when progeny performance is measured in different environments." For purposes of this study, stayability measured reproductive fitness by looking at the probability a cow was still producing at age four provided it had a calf at age two.
The United States was divided into nine different regions according to climate, forage production, and herd management practices.
(Insert Figure 1 with caption)
From 1993 to 2006, stayability of Red Angus steadily declined across all regions. The Northern regions (Corn Belt, Mountains, Northeast and Upper Plains) saw greater stayability in comparison to the Southern regions (Desert, Gulf, and Southeast). While the Northern regions shared similar climatic conditions, the Southern regions were prone to differences from each other and environmental extremes. Greater than 55% of the females in the Northern regions met the conditions for SUCCESS. This means the cow was still productive at age four and had calved annually within a 60-day window of the previous calving. Southern regions experienced less than 40% for SUCCESS and held a higher range (turnover rate) in the percentage of females that stayed in the herd. The Northern region experienced a lower range in the herd which may indicate greater adaptability to those regions or little change in the environmental conditions each year.
Sire selection was graphed by using reaction norms to evaluate progeny performance for ten of the most commonly used sires. Only one sire showed a flatter slope indicating its progeny was functional across different environments. This is an advantage in challenging environments, but when conditions are not challenged, the progeny will lack in performance compared to progeny from other sires.
Overall, SUCCESS had a low heritability with a National Average of .12. This time, Southern regions (Desert and Gulf) were found to have the highest heritability which may be the result of a smaller sample size of cows.
Genetic Correlation was used to evaluate SUCCESS between pairs of regions. SUCCESS was treated as a separate trait in each of the regions in order to identify the likelihood for GxE. Of 36 region pairs, 29 showed levels of concern for GxE leading to the conclusion that GxE does exist and influences the stayability in Red Angus. One challenge of this study was defining and comparing environments. More research and determination of environmental classifications needs to be pursued to increase the accuracy of this study.
To view the full article, "Genotype by environment interaction for stayability of Red Angus in the United States," visit the Journal of Animal Science.