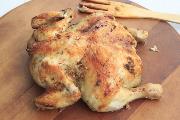 A recent article in the Penn State News highlights research that aims to further enrich eggs, poultry and meat.
Research has shown that the consumption of long-chain omega-3 polyunsaturated fatty acids provides a myriad of health benefits, including lowering the risk of cardiovascular disease and death. "With the incidence of obesity, heart disease and insulin resistance increasing toward epidemic proportions in the United States, people must make changes to improve their health," said Kevin Harvatine, associate professor of nutritional physiology in the Department of Animal Science.
To view the full article, visit Penn State News.