Don't miss the wonderful symposia at this years Western Section of ASAS. Today we would like to highlight some of the speakers that will be addressing the issue of "Grazing and Land Management in the Western US – Challenges, Tools, and Opportunities" during the WSASAS Beef Symposium.
Marty Vavra
Title: Overview of past and current grazing in the Intermountain West
Bio:

Marty has 47 years of experience working with range livestock grazing systems, livestock/wildlife relationships, and ungulate ecology in Eastern Oregon. Previously was Professor of Rangeland Resources and Superintendent Eastern Oregon Agricultural Research Center, Burns and Union, Oregon State University and Rangeland Scientist and Leader Starkey Ungulate Ecology Team, Forestry and Range Sciences Lab, PNW Research Station, Forest Service, La Grande OR. Research emphases include the effects of ungulates on the processes, structure and composition of plant communities and ecosystems with emphasis on post disturbance plant succession; nutritional ecology of ungulates; livestock/wildlife relationships; ungulate behavior; livestock grazing management; and the influences of forest and range management practices on ungulates.
Past President WSASAS
2004 Distinguished Service Award WSASAS
Publication, author or coauthor
76 journal articles
102 proceedings, technical reports, agricultural experiment station bulletins
1 book editor
6 book chapters
Currently
Emeritus Professor Eastern Oregon Agricultural Research Center, OSU
Emeritus Scientist Pacific Northwest Forest and Range Research Station, FS
Dr. Kirk Davies
Title: Grazing to modify fuel characteristics and fire behavior
Bio:

Dr. Kirk Davies is the Lead Rangeland Scientist at the Agricultural Research Service Unit at the Eastern Oregon Agricultural Research Center in Burns, OR. He obtained dual B.S. degrees in Crop and Soil Science and Rangeland Resources in 2000. Dr. Davies then obtained a PhD in Rangeland Resources from Oregon State University in 2005. He was hired by the Agricultural Research Service in 2006. Dr. Davies has published over 100 peer-reviewed scientific journal articles on fire ecology, grazing-fire interactions, plant community dynamics, sagebrush steppe ecology, invasive species management, and feral horse effects. He has also published numerous management guides, extension articles, and proceeding papers.
Dr. Derek Bailey
Title: Opportunities to modify grazing behavior to meet land management objectives
Bio:

Dr. Derek Bailey is a Professor of Range Science at New Mexico State University in Las Cruces, New Mexico USA. After growing up on a cattle ranch in southern Colorado, Derek received his PhD in Range Science and his MS and BS degrees in Animal Science at Colorado State University. Before to coming to NMSU, Derek worked as a researcher for Montana State University and USDA-ARS in Oklahoma. He also was a range management consultant in Nevada and an extension agent in Arizona. His research interests include rangeland livestock production, grazing management and animal welfare. In addition, he teaches courses in rangeland management, research methods, livestock handling and vegetation monitoring.
Dustin Johnson
Title: Is your grazing program meeting land management objectives
Bio: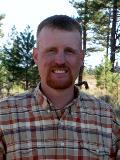 Dustin Johnson has worked over 10 years for the Oregon State University Extension Service as a Livestock and Rangeland Extension Agent in southeast Oregon. The focus of his extension and applied research includes developing resilient natural resource and livestock management systems, improving the success of rangeland restoration efforts, identifying management practices that enhance the productivity and resiliency of rangeland and wetland habitats, and facilitating landowner and grazing permittee participation in cooperative rangeland assessment and monitoring programs.
Dr. Chad Boyd
Title: Resilient management systems & their role in land management
Bio: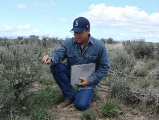 Dr. Boyd is currently a rangeland ecologist working and the Research Leader for the Agricultural Research Service in Burns, Oregon. He received a BS in Wildlife Management from Texas Tech University and an MS and Ph.D. in Rangeland Ecology from Utah State and Oklahoma State Universities, respectively. Currently he is pursuing research aimed at shedding light on topical management challenges bridging agricultural production and management of natural resources. Much of his current research focuses on restoration of exotic annual grass-dominated rangeland and the relationship between fuel load attributes and fire-caused mortality of perennial bunchgrasses. Dr. Boyd is also involved in management planning for sage-grouse habitat at local, regional, and national levels through my participation in development of the Harney County CCAA for Greater Sage-Grouse, cooperative management planning with BLM, and work with a diverse array of partners to develop ecologically-based decision support systems for rangeland managers and decision-makers.
Leticia Henderson
Title: Understanding cow size and efficiency in a rangeland environment
Bio: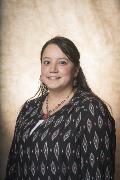 Leticia Henderson represents Oregon State University as a livestock and range extension agent in northeast Oregon. She grew up on a ranch in southeastern New Mexico, where she gained experience in beef production. She earned her B.S. and M.S in Agricultural Economics at New Mexico State University. She is currently completing her PhD in Rangeland Ecology and Management from the University of Wyoming. Her research and extension program interests include range livestock economics, GIS technology in range management, and farm and ranch women risk education.