Interpretive Summary: Effects of feeding monensin to bred heifers fed in a drylot on nutrient and energy balance.
By: Jackie Walling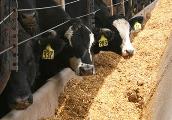 A recent article published in the March 2018 issue of the Journal of Animal Science studies how limit-fed heifers are affected by the addition of monensin to corn stalk-based diets. Monensin is a common additive in traditional feedlot diets and researchers specifically evaluated its effect on retained energy (RE) and nitrogen balance. Previous studies on beef cows show it decreases the acetate to propionate ratio, methanogensis, and dry matter intake (DMI), but increases average daily gain leading researchers to hypothesize it may be beneficial in increasing efficiency of feed utilization.
Sixteen heifers were separated by body weight into two equal groups in a completely randomized design for a 161-day period. The two groups were MON (those receiving 150 mg/d of monensin) and CON (no monensin). Due to complications unrelated to the study, one heifer died reducing the CON group to seven heifers. All heifers were fed a corn-stalk based diet consisting of contained corn silage, wet distillers grains with solubles, and a commercial supplement once a day at 8 AM with unlimited access to water. Levels of neutral-detergent fibers (NDF), acid-detergent fibers (ADF), crude protein (CP), and organic matter (OM) were identical between the two feedings. On day 14, 42, and 161 of the study, total fecal and urine samples were collected over a period of 96 hours. On day 0, 3, 14, 28, 42, and 161, gas exchange was measured.
Little variability existed between the two groups of heifers showing no difference in DMI or the digestion of DM, OM, NDF, or ADF. The change in body weights relative to the initial body weights were similar showing a gradual increase likely due to fetal development. Daily methane production did not differ between groups, but when expressed in liters of methane produced on a metabolic body weight basis, the MON group produced 7% less. RE ceased to differ between groups but was elevated on day 14 and 42 as opposed to day 161. Nitrogen intake and excretion were similar between groups, but when fecal and urinary nitrogen was expressed as a percent of the total nitrogen, lower levels resulted in the MON group. Full details of results can be found in the article.
Previous studies of monensin inclusion have shown a variety of results when diets of cattle were ad libitum or above maintenance, but the little discrepancy between the MON and CON groups during this study suggests that monensin may not be effective to increase feed utilization in a limit-fed diet situation. Typically, monensin causes greater protein absorption leading to increased nitrogen retention, but this was not observed for the limit-fed heifers in the MON group. Production of methane was thought to influence RE and because methane production was not reduced by monensin, RE failed to change. More research needs to be pursued in order to solidify the use of monensin in limit-fed diets. A larger sample size and/or increasing the amount of monensin used would be beneficial to see if any variability between the MON and CON groups would present.
To read the full article, "Effects of feeding monensin to bred heifers fed in a drylot on nutrient and energy balance," go to the Journal of Animal Science.