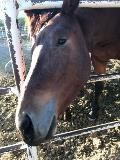 Sugar Link has won the Preakness Stakes!
To follow up on how the horses were preparing before the big race, visit the American Society of Animal Science Facebook Page!
Here is a minute by minute account of Sugar Link's victory!
6:00 AM
A light breeze chills the pre-dawn air as clouds roll in suffocating any hints of the sun's rays. A few rumbles rattle in the distance before casually dissipating over Pimlico Race Track. It has been a harrowing two weeks of preparation, but the eagerly anticipated day has arrived, rain or shine!
Claiming the role as second jewel in the Triple Crown series, the Preakness Stakes has been running since 1873. Fans gather round the grounds in hushed excitement trying to catch glimpses of the famed competitors before placing their bets. Following a vivacious run for the roses, spectators anxiously await to see which horse pines for the blanket of Black-eyed Susans the most.
6:00 pm
With 20 minutes to post time, caller Johnny feels honored to have been selected to announce yet another monumental day. The audience seems to appreciate his commentary.
6:20 pm
"Welcome to the 143rd running of the Preakness Stakes! Bit of a gloomy day out there, but stay dry, grab a drink, and you'll be warmed up in no time!"
"Here come the parade of contenders! Some a bit tattered from their Derby debut…"
"Word has it modification in training routines has been prevalent among the horses..."
"First to load in the gates, fan favorite, AGGGGINGGG GRACEFULLLYYYY! Showing a bit of age, harboring her ice boots right up to the gate, groom attempting to take them off…"
"Wandering Soul taking part in the loading festivities due to shortened trailering warm-up…"
"Oh dear!! Aging Gracefully finding a spark of youth and it appears poor dance skills on the groom's part…and, OH WOW!! Boots flying, ice cubes ricocheting. It's like a soccer mom's ice box threw up out there on the track, thankfully no orange slices!"
"Sugar Link receiving her required dosing of Pepto Bismol keeping her racing friendly, all other horses locked and loaded!"
Simultaneously, the stakes bell rings and the gates retract.
"ANNNNDDDD THEERRREEE THEYYYY GOOOOOOO! Once again, Aging Gracefully twitches to the lead followed by Conjugate Driven momentarily blocking HyperLoop's path…"
"ROS Bashing and Sugar Link falling to the back, Wandering Soul…HAS NOT BROKEN FROM THE GATE!!!"
"A race not for the faint of heart coupled with the sight of other horses running has his heart bursting through his chest!! Not enough time in the trailer, perhaps an investment in Cap and Trade would please the EPA and allow Trainer Kortisol adequate amounts of warm-up time…."
"What a pity!"
"Around the first turn, into the second, it's Aging Gracefully, HyperLoop zig zagging on Conjugate Driven, weaving like a drunken sailor…"
"Seems to be a race ritual taking place with mutterings of "powerhouse of the cell" coming from the back pairing of ROS Bashing and Sugar Link…"
"Down the back stretch, ROS Bashing making a move, gaining momentum thanks to selenium circuitry powering up those mitochondria…or perhaps voodoo wizardry chanting…"
"HOLD YOUR HORSES FOLKS, THIS RACE HAS GONE WILD! Aging Gracefully faltering from the lead, fibers snapping everywhere, HyperLoop burning all forms of fat to take over..."
"Coming through the third turn Conjugate Driven is wavering, stumbling, AND THE JOCKEY HAS PULLED HIM UP!!! Down for the count. Those risqué photos bleed true, the Great Barrier Reef is located in his joints, douse that horse in one final oil spill and put him out of his misery!"
"Galloping through the fourth turn into the Home Stretch, Aging Gracefully continually failing, HyperLoop carrying the lead! ROS Bashing leaving Sugar Link in the dust, surging on the leader's tail, but NO?! WHAT IS HAPPENING???"
"Sugar Link is making a drastic move that appears to be Bic lighter approved!!! Sources say she has undergone an intensive change to her running style…"
"Herrreeee she comes, passing Aging Gracefully, galloping through ROS Bashing, each stride powered by a little poof of Pepto pixie dust emitted underneath the tail, it's like Mario when he hits the star power-up!! THIS GIRL IS INVINCIBLE!!!"
"COMING DOWN TO THE WIRE, NECK AND NECK, ITS UPSET STOMACH AND UNTAMED CORTISOL BATTLING FOR THE BLACKED EYED PEAS….I mean SUSANS!!!
COMING IN FOR THE PHOTO FINISH…IT'S GOING TO BE SUGARRRRRR LINKKKKK!!!!!!!!! HEEEEYYYYY PEPTO BISMOL!!!!!
WHAT. A. RACE. CONGRATULATIONS TO THE 2018 PREAKNESS STAKES WINNER SUGAR LINK NOW SPONSORED BY THE AMERICAN SOCIETY OF ANIMAL SCIENCE AND PEPTO BISMOL!