Public spending on agricultural R&D by high-income countries hits first decline in 50 years
The USDA Economic Research Service reports that public investment in agricultural R&D
For high-income countries as a group, public agricultural research expenditures (adjusted for inflation) grew rapidly after 1960. However, growth slowed markedly in recent decades and has now turned negative. In constant 2011 dollars, public agricultural R&D spending in these countries grew from $3.9 billion in 1960 to a peak of $18.7 billion in 2009, before declining to $17.5 billion by 2013 (the latest year with complete data). This decline in public R&D spending marked the first sustained fall in agricultural R&D investment by these countries in 50 years, and was most pronounced in the United States and Southern Europe. The United States continues to lead among high-income countries in public agricultural R&D spending, but the U.S. share of the total declined from 35 percent in 1960 to less than 25 percent by 2013. This chart appears in the ERS report Agricultural Research Investment and Policy Reform in High-Income Countries, released May 2018.
A webinar is scheduled for June 5 at 1pm EDT – Register here.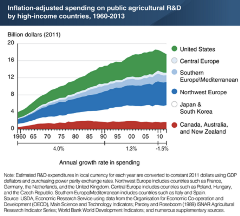 Higher resolution image here.