By: Jackie Walling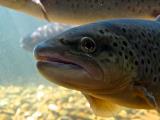 Utilizing masculinization of female fish to maintain an all-female population has been thought to improve reproductive practices in rainbow trout. Hormones used early in the lifecycle of fish convert genetically female fish into functional males. These fish, known as sex-reversed females (SRF), retain their XX genetic
make-up,
but phenotypically resemble males producing spermatozoa carrying only X chromosomes. This means the only offspring produced can be female. The hormonal process
effects
gonadal development and sperm characteristics resulting in
incomplete
testicular development and the absence of a sperm duct causing lower sperm production and reduced motility. Sperm produced from SRF differs significantly from normal male sperm due to the absence of the sperm duct, therefore comparisons (between SRF and normal males) need to be evaluated by assessing sperm within the testes. An article published July 2017 in the Journal of Animal Science begins such comparisons by investigating expressed proteins in testicular semen of sex-reversed female (XX) and normal male (XY) rainbow trout.
Research
was performed at the Rutki Salmonid Research Laboratory in Olsztyn, Poland. All normal males and SRF originated from the same pool of eggs from the Rutki strain. Part of the eggs underwent masculinization and following populations were maintained by masculinization of females. This study used
fish
from the spring spawning of April 2015 and collected milt (semen) from the testes of six SRF and six normal male fish.
PCR (polymerase chain reaction) was used for sex identification and detected Y-specific gene fragments in normal males only and verified the XX genotype for SRF. Higher sperm motility was seen in normal males compared to SRF, but all other sperm quality parameters remained similar. 2D DIGE technology was used to evaluate and compare testicular sperm. In the two groups of fish, 1,260 matched protein spots were identified followed by 61 differentially abundant protein spots. Normal males showed upregulation in 32 of the 61 spots with 27 protein spots
being
successfully identified as 26 different proteins. The SRF showed upregulation in 29 of the 61 spots successfully identifying 28 of them. Contrary to sperm, seminal plasma recognized 1300 matched protein spots with no differences between the protein profiles of normal males and SRF. Identified proteins showed binding and catalytic activities and underwent sortation according to gene ontology annotation. The classification of proteins indicated a difference in metabolic profiles.
With 95% viability for semen, motility was the concerning factor between normal males and SRF. Normal males showed an abundance of proteins related to metabolic energy pathways such as the TCA cycle and carbohydrate metabolism which both
assist
in powering sperm motility. SRF (having only X sperm) tend to have high protein expression (and high variability) associated with cytoskeletal structures. These proteins, seemingly characteristic of X sperm, influence the structure of the sperm tail shape affecting functionality. Protein expression related to energy metabolism may be the foundational key for improving sperm motility and the process of masculinization does not fully develop the energy pathways needed. Due to poor pathway development, use of SRF may hinder reproductive success on a large scale, but information from this study can be used to explore molecular mechanisms of masculinization and the differences between X and Y sperm.
To view the full article, visit the Journal of Animal Science.